A Word About
Cell Culture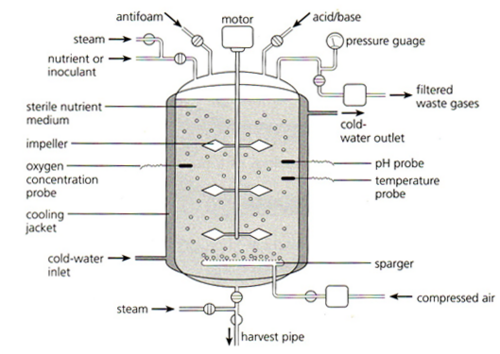 Schematic representation of a CSTR bioreactor (from Biomate India). A common variation is for the mixer to be attached through the bottom.
Cell culture is the process of growing genetically engineered cells in a tank of a specifically formulated medium. The cells, in turn, produce the complex molecules that consitute the active ingredient of the eventual drug. Cell culture follows inoculum preparation. It can be done in a variety of configurations, including:
Continuously stirred tank reactor (CSTR) - A stainless steel tank with a mixer and the ability to inject gas (air, oxygen, etc.) with a controlled flow rate and composition near the bottom of the tank. Vessel temperature is controlled by addition or removal of heat through the tank jacket. The control system adds acid or base for pH control and nutrient for cell growth.
Air lift - In place of a mechanical impeller, the addition of air is used to circulate the liquid in the vessel, which is specifically designed to support this flow.
Carrier beads in a CSTR - This configuration uses a cell line that can only grow well while anchored to a surface. To provide that surface, near-neutral buoyancy beads are added to the vessel. Vessel mixing keeps the beads distributed.
Membrane bioreactor - Cells are immobilized in a membrane filtration system, typically a hollow fiber filter, where nutrients can flow right over the cells.
Most biopharm plants use the CSTR configuration. While this system is most appropriately referred to as a "bioreactor", it is often referred to as "fermentor".
| | | |
| --- | --- | --- |
| Page updated 7/6/17 | | |